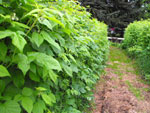 Raspberry
Our family has grown raspberries for years and in recent years they have been a great addition to fruiting planter displays. You can expect a lot of fruit from ever-bearing varieties throughout the summer and often into late fall. Plant in full sun to partial shade with well draining soil mixed with compost or composted cow manure. Use as a centerpiece or second tier in planter displays.
We call our variety "Torrence". It came from an old home being demolished and produces a very flavorful medium to large red berry. Some years these canes have produced heavily as late as Thanksgiving.
There are several Red and Yellow varieties of raspberry and we can often find them if you have a particular variety you're looking for.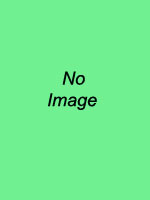 Grapes
Everybody has a taste bud waiting for a grape in whatever form is to your liking. Grapes are well known for their crisp fresh taste, juice, vinegar, as raisins, and of course we wouldn't have good wine without this fantastic vine. From the time of the Romans and before the grape has been used for wines and vinegar as well as played a huge role in Italian sculpting, masonry, painting, and culture. Whether you like it fresh, in a glass, on your greens, dried, or on/in your food you have an opportunity to grow some of your own. We have planted them as centerpieces or overhanging in planter displays as well as for your very own little vineyard row. Although it's true we don't always have a long enough growing season west of the cascades we almost always do get good fruit on some varieties. We have used the leaves in dinner displays and as wraps. Sometimes it's fun to make the dinner all grape with wine, wraps, raisin sauces over pork chops and rice, salad with vinegar, cinnamon-raisin rolls, fruit platter over grape leaves, and a flower vase with leafy grape vines hanging down. There are so many dishes made from grapes and their dried raisins that we just can't mention them all. Plant in full sun with well draining soil.
Here are some favorite varieties:
Wine grapes: Cabernet, Chardonnay, Pinot Noir
Table or Juice grapes:
Concord: this blue grape is used to make the very best grape juice and although a seeded variety we like them fresh too.
Buffalo: A parent of today's concord this grape is very productive with spicy black seeded fruit
Himrod: Seedless white and spicy
Interlaken: Seedless green/yellow matures in the NW very early producer
Niagara: Seedless green/yellow mid season
Reliance: Seedless red very productive early to mid season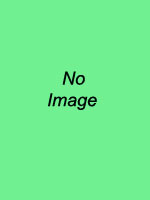 Kiwi (actinidia)
Amazingly the kiwi does very well in our climate ripening late in the year and usually picked after the first frost. Kiwis require both a male and female plant to produce fruit. These vines grow very fast once established and can grow several feet in a matter of weeks. Prune very hard in the fall and spring for great production. A single producing plant can yield 50-200 pounds depending on the variety, arctic varieties produce much less than most with only about 10 pounds. Plant in full sun to partial shade and well draining fertile soil.
Our varieties include: Fuzzy, Hardy, and Arctic varieties. Contact us for desired types.